Measure What You Value
Dr. Jim Laub developed the OLA/Organizational Leadership Assessment to assess organizational health based on six key areas of effective organizational leadership. These key areas of organizational and leadership practice are critical to achieving optimal organizational health. These concepts were then expanded into the OLA instrument to provide positive, developmental employee reviews.
The Organizational Leadership Assessment (OLA) evaluates organization health to create healthy, servant-minded organizations enabling them to reach their potential.
Healthy Organizations…
Display Authenticity
Value People
Develop People
Build Community
Provide Leadership
Share Leadership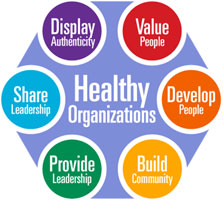 OLA Process Map
The OLA assessment allows you to measure what you value to determine your organization's health level and ability to exhibit a servant-minded leadership culture. By allowing everyone in your organization to participate you help to create an authentic and open atmosphere that seeks to improve in the six disciplines of a healthy organization.

Assessing
Organizations & Teams
Improve the health and performance of your organization or team and build a group characterized by positive leadership, valued and productive workers, authenticity and vibrant community.
Find out how you can use the Organizational Leadership Assessment (OLA) to measure your organization or team's health according to the six key disciplines of Servant Leader Performance.
You can also complete the free OLA QuickLook to view a glimpse of your organization's health and performance capacity.
The soon to be published text, Leveraging the Power of Servant Leadership, will be available by summer, 2018 from Palgrave MacMillan Publishers.
Assessing
Healthy Leaders
Develop healthy leaders within your organization – leaders who are other-focused, concerned more about the team and the people they lead over their own self-interest.
Take the free SLP Self Assessment to begin your individual leadership journey into the six key disciplines of Servant Leader Performance (SLP).This assessment will help your leaders to become more servant-minded in their leadership approach.
The 40 Days Toward a Servant Leader Mindset is a guide with readings, personal and team reflection questions and action steps all based on the OLA Model.
Additional resources such as the Servant Leader Performance (SLP) Assessment and the free Leader-Manager Assessment can be used to assess individual leaders.
Supported By Nearly 20 Years of Research
There have been over 85  research studies conducted using the OLA totaling nearly 20 years worth of research. You can access these studies, learn how to use the OLA for your research project and find answers to frequently asked questions in the research section.
Discover how you can use the OLA tools to assess organization and leader health. Use research-based assessment tools that are designed to support a servant leader performance mindset at all levels of the organization. Learn to utilize the OLA model to provide direction and clarity to leaders you are partnering with who seek a practical and workable process to increase their servant-minded leadership practice.